HIGH SCHOOL FAQS - START OF SCHOOL YEAR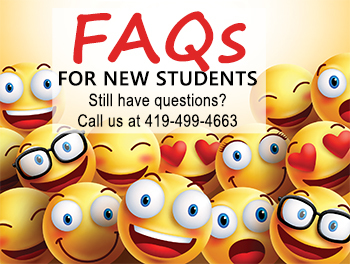 WHAT DO I DO AFTER I'M ACCEPTED?
Your final acceptance will be determined after EHOVE reviews all your records at the end of the school year, so maintain good grades, attendance and behavior. Also, make sure you attend Summer Registration in July. That's where you'll order Pride shirts, turn in forms, talk to counselors, pay fees, and pretty much everything else to get ready for the school year. Look for the event info in the mail.
WHAT TIME SHOULD I REPORT AND WHERE DO I HANG OUT BEFORE SCHOOL STARTS?
School starts at 8:15 am. Students may enter buildings at 8:10 am. Prior to that time, you may wait outside in the courtyard between the Health & Human Services and High School Office Buildings. You can also hang out or eat breakfast in the cafeteria inside the High School Office Building.
On the first day, it'll be a little different, report directly to The Center in the Science & Technology Building as soon as you arrive. You'll be welcomed on campus by EHOVE Ambassadors and Staff to help you easily find it and a good place to sit with others from your program.
WHAT DO I WEAR ON THE FIRST DAY?
If you have received your PRIDE attire (shirts and hoodie) for the new school year, you should wear your PRIDE attire on the first day as well as every day during the school year. If you have not received your program clothing, it will be issued to you as soon as possible. Until that time, please wear school-appropriate clothing.
WHAT WILL WE DO ON THE FIRST DAY AND WHAT DO I BRING?
For students to new to EHOVE or new to a program: You will connect with your teachers and classmates and then go to your lab as a group. You'll take a tour, hear some important pointers, get an ice cream treat, watch a video, and get a chance to ask questions. You will have a chance to walk your schedule later in the day. Bring your typical school supplies (pencils, pens, paper, backpacks, a great attitude, etc.) on the first day. Don't bring specialty items like helmets, toolboxes, etc. Your lab instructor will inform you what to bring and when to bring it.
WHAT IF I NEED TO CHANGE MY SCHEDULE?
For any type of schedule change, please see Mrs. Stombaugh, the Guidance Secretary, in the high school office.
WHAT IF I AM IN BAND, SPORTS OR ANOTHER PARTNER SCHOOL ACTIVITY AFTER SCHOOL?
Pick up, complete and return an Extracurricular Eligibility Form immediately. You may pick up a form in the high school office. Have the form signed by your parent, coach/advisor and partner school principal. When the form is completed and returned you may be released at 2:25 pm.
DO I HAVE TO PROVIDE MY OWN TRANSPORTATION?
Bus transportation is provided by each home high school, and questions and arrangements should be directed to their high school office. EHOVE issues parking permits, at no charge, to students who choose to drive to EHOVE. For students taking classes at BGSU Firelands, optional transportation is provided during the school day between EHOVE and BGSU Firelands, on a daily basis or as needed.
WHO MAY PICK ME UP IF I HAVE TO LEAVE SCHOOL EARLY FOR ANY REASON?
You may be picked up by contacts marked as Can Pick Up in the Emergency Contacts section of the Parent Portal.
WHAT IF I HAVE A DOCTOR'S APPOINTMENT OR AM LATE TO SCHOOL?
If you need to leave school early, bring a note from your parent or guardian to the high school office before school starts so you can get an early release pass. If you arrive late to school, sign in at the high school office before you go to class.
ONE MORE THING ABOUT ATTENDANCE
All absences, tardies or early departures should be accompanied by a note from your parent/guardian. If you know about it in advance, you may bring in the note in advance. Phone calls from parents are always appreciated but the note is required for the absence to be changed from unexcused to excused.
GET CONNECTED
See students talk about what's important to them at EHOVE, sign up for email news at www.EHOVE.net, and follow EHOVE on Facebook and Twitter to see the latest news and photos.
DO I HAVE TO WEAR MY PRIDE SHIRT AND ID EVERY DAY?
Yes and yes! If you want to purchase extra pride shirts or hoodies after mid-September, you may pick up an order form from Miss Bert in the CE building. If you lose your ID, you will need to purchase a new one for $5.00, from the high school office.
HOW DO I PAY FOR BREAKFAST AND LUNCH?
You can pre-pay for lunches at Lunchprepay.com with cash or check in the cafeteria when you get your lunch, or send a check to EHOVE to the attention of CAFETERIA, with your name on the check. Breakfast costs $2.50 and lunch costs $3.00. When paying in person, try to do it at breakfast (7:45-8:10) since lunch time is busier. Remember: We want everyone to eat breakfast and lunch to provide your body and brain the fuel they need to operate efficiently. If you qualify for free or reduced lunches, you also qualify for free or reduced breakfast. (Reduced prices: Breakfast $ .30, Lunch $ .40) Everyone will use the finger scan at the register to record their meal transactions.
DO I HAVE TO COME TO EHOVE IF MY HOME SCHOOL IS CLOSED?
This question has two different answers:
Our number one priority is your safety. Therefore, when your home school is delayed or closed due to WEATHER, you are expected to follow their delay or closing schedule and are discouraged from driving to EHOVE. Please note: If your home school is on a two-hour delay, you must be at EHOVE by 10:15, or you will be marked tardy. The exception is, if you attend EHOVE only in the morning, you should not attend on a day your home school has a weather delay, due to the later weather-related start. Delays and closings of home schools do not affect your attendance record at EHOVE.

If your home school is closed for any reason OTHER THAN WEATHER, you must attend EHOVE. In this instance, be sure to check with your home school regarding bus transportation. It is likely a bus will be provided for you to and from EHOVE, but you will probably need your own transportation between your house and the high school. You will need to check the policy of your home school.
CAN I STILL PARTICIPATE IN SPORTS OR OTHER ACTIVITIES AT MY HOME SCHOOL?
Yes! Since you will still be a student at your home school when you attend EHOVE, we encourage you to continue to participate in your extracurricular activities, including sports. We offer an early release at 2:25 PM for those students who participate. You will need to turn in an Extracurricular Eligibility Form, which was included in the summer mailing packet. This needs to be signed by you, your parent or guardian and your coach or advisor. Please be sure to attach your sports schedule. Also, please remember that this privilege can be revoked due to attendance, discipline, or grade issues.
WHAT IF I AM STRUGGLING IN MY CLASSES?
Our BUG (Bringing Up Grades) program is held during the last period of the school (2:29-2:59 p.m.) day to offer continual academic support.
WHAT ABOUT SAFETY AND SECURITY?
Safety is always first. Hear something, say something. If you see or hear something that alerts you to potential danger, please notify the school immediately or use our Safe School Reporting System to confidentially call/text (567) 401-0077 or email tips@EHOVE.net.
ANYTHING ELSE?
A great deal of general information regarding EHOVE is made available to everyone online. Here on our website, you will find links to the latest news, newsletters, program information, scholarships and more.

To stay on top of what's happening, you'll also want to read your EHOVE email and check EHOVE and home school announcements by clicking on Schoology in the Quick Links on your Chromebook.

Be sure to connect with EHOVE on social media using the links in the top right corner of the page.. You will see all the latest photos, videos and news through these sites. Many programs also have their own Facebook pages. They're easy to find in the search box on Facebook, Twitter and Instagram. Just type EHOVE and the program name.